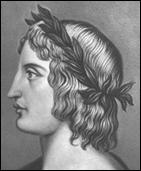 19–Poet, Virgil, dies in Brundisium, at age 50. He had removed from his last will an earlier request that the Aeneid be burned upon his death. The work remains one of the most widely read of the classics.

455–Emperor Avitus enters Rome with a Gallic army and consolidates his power.

580–Pope Vitalian is born in Segni, Lazio, Byzantine Empire.

1170–Combined English and Irish forces seize Norse-Gaelic Dublin, forcing Ascall mac Ragnaill, King of Dublin, into exile.

1217–Estonian leader, Lembitu, and Livonian leader, Kaupo the Accursed, are killed in the Battle of Matthew's Day.

1327–Edward II, King of England (1307-1327), dies at Berkeley Castle, Gloucestershire, England, at age 43.

1415–Frederick III, Holy Roman Emperor, is born in Innsbruck, Tyrol. He was the penultimate emperor to be crowned by the Pope, and the last to be crowned in Rome.

1435–The Congress of Arras causes Burgundy to switch sides in the Hundred Years' War.

1558–Charles V, Holy Roman Emperor, dies of malaria in Yuste, Spain, at age 58.

1643–Emperor Hong Taiji of China dies at age 50.

1745–A Hanoverian army, under the command of Sir John Cope, is defeated in 10 minutes by the Jacobite forces of Prince Charles Edward Stuart.

1776–Part of New York City is burned shortly after being occupied by British forces.

1780–During the American Revolutionary War, Benedict Arnold gives the British the plans to West Point.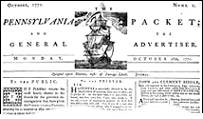 1784–The first successful daily newspaper in America, The Pennsylvania Packet and Daily Advertiser, begins circulation in Philadelphia, Pennsylvania.

1792–The National Convention declares France a republic and abolishes the absolute monarchy.

1832–Author, poet, and playwright, Sir Walter Scott, dies of typhus at Abbotsford in Roxburghshire, Scotland, at age 61. Many of his works remain classics of both English-language literature and Scottish literature. Famous titles include Ivanhoe, Rob Roy, Old Mortality, The Lady of the Lake, Waverley, The Heart of Midlothian, and The Bride of Lammermoor. Although primarily remembered for his extensive literary works and his political engagement, Scott was an advocate, judge, and legal administrator by profession.

1837–Charles Tiffany opens his jewelry and china stores.

1840–Ottoman sultan, Murad V, is born Murad bin Abdul Mecid in Istanbul, Ottoman Empire.

1842–Ottoman sultan, Abdul Hamid II, is born at Topkapi Palace, Istanbul, Turkey.

1843–John Williams Wilson takes possession of the Strait of Magellan on behalf of the newly independent Chilean government.

1860–An Anglo-French force defeats Chinese troops at the Battle of Palikao during the Second Opium War.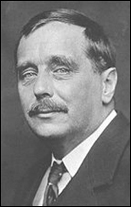 1866–Science fiction writer, H.G. Wells, is born Herbert George Wells in Bromley, Kent, England. He was prolific in many genres, including the novel, history, politics, social commentary, textbooks, and rules for war games. Wells is best remembered for his science fiction novels and is called a "father of science fiction," along with Jules Verne and Hugo Gernsback. His works include The Time Machine, The Invisible Man, The War of the Worlds, The Island of Doctor Moreau, The First Men in the Moon, and The Shape of Things to Come. He was nominated for the Nobel Prize in Literature four times. Rod Taylor portrayed Wells in the 1960 science fiction film, The Time Machine, in which Wells travels into the future to try and find a Utopian society. Malcolm MacDowell portrayed Wells in the 1979 science fiction film, Time After Time, in which Wells uses a time machine to pursue Jack the Ripper to the present day. In the film, Wells meets "Amy" in the future, who then returns to 1893, to become his second wife, Amy Catherine Robbins.

1874–Composer, Gustav Holst, is born Gustavus Theodore von Holst in Cheltenham, Gloucestershire, England. He is best known for his composition The Planets.

1875–Princess Alexandra of Bavaria dies in Schloss Nymphenburg in Munich, Bavaria, Germany, at age 49. She was a member of the House of Wittelsbach and devoted her life to literature.

1896–American super-centenarian, Walter Breuning, is born in Melrose, Minnesota. He would go on to live to age 114 years (205 days). At the time of his death, on April 14, 2011, Breuning was the fourth oldest verified undisputed man ever, and the third oldest verified American man ever. He was the sixth man verified to have reached age 114.

1897–The "Yes, Virginia, there is a Santa Claus" editorial is published in The New York Sun.

1898–Empress Dowager Cixi seizes power and ends the Hundred Days' Reform in China.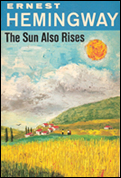 1903–The first cowboy film, Kit Carson, premieres in America.

1903–Engineer and businessman, Preston (Thomas) Tucker, is born in Capac, Michigan. He is best known for his 1948 Tucker Sedan (known as the "Tucker '48" and initially nicknamed the "Tucker Torpedo"), an automobile which introduced many features that have since become widely used in modern cars. The 1988 movie, Tucker: The Man and His Dream (with Jeff Bridges in the title role), is based on Tucker's spirit and the saga surrounding the car's production.

1912–Chuck Jones, animator, producer, and screenwriter, is born Charles Martin Jones in Spokane, Washington. He is best known for his work with Warner Bros. cartoons in regard to the Looney Tunes and Merrie Melodies shorts. He wrote, produced, and/or directed many classic animated cartoon shorts starring Bugs Bunny, Daffy Duck, Wile E. Coyote and the Road Runner, Pepé Le Pew, Porky Pig, and many other Warner characters.

1921–A storage silo in Oppau, Germany, explodes, killing 500 to 600 people.

1925–Ernest Hemingway finishes the manuscript of The Sun Also Rises in Paris, France.

1931–Great Britain goes off the gold standard.

1931–Actor, Larry (Martin) Hagman, is born in Fort Worth, Texas. He is best known for his roles on the TV shows I Dream of Jeannie and Dallas. He appeared in the films Ensign Pulver, Fail-Safe, In Harm's Way, The Group, Beware! The Blob, Stardust, Harry and Tonto, Mother, Jugs & Speed, The Eagle Has Landed, Superman, S.O.B., Nixon, and Primary Colors. His mother was Broadway actress, Mary Martin.

1933–Salvador Lutteroth runs the first ever EMLL (present-day CMLL) show in Mexico, marking the birth of Lucha libre.

1934–A large typhoon hits western Honshu, Japan, killing 3,036 people.

1934–Poet-songwriter, Leonard (Norman) Cohen, is born in Westmount, Quebec, Canada. He is known for the songs Bird on a Wire, Suzanne, Joan of Arc, and So Long, Marianne.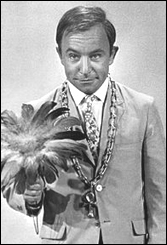 1935–Actor, Henry Gibson, is born James Bateman in Germantown, Philadelphia, Pennsylvania. He is best known as a cast member of the TV sketch-comedy series Rowan & Martin's Laugh-In from 1968 to 1971. He appeared in the films The Nutty Professor, Kiss Me, Stupid, The Long Goodbye, Nashville, The Kentucky Fried Movie, The Blues Brothers, Innerspace, and Wedding Crashers.

1937–J.R.R. Tolkien's The Hobbit is published.

1938–The Great Hurricane of 1938 makes landfall on Long Island in New York, killing an estimated 500 to 700 people.

1939–Romanian Prime Minister Armand Calinescu is assassinated by far-right legionnaires of the fascist paramilitary organization Iron Guard.

1942–On the Jewish holiday of Yom Kippur, Nazis send over 1,000 Jews of Pidhaitsi (west Ukraine) to the Belzec extermination camp; in Poland, Germans order Jews to permanently evacuate Konstantynów and move to the ghetto in Biala Podlaska, established to assemble Jews from seven nearby towns, including Janów Podlaski, Rossosz, and Terespol; and lastly, Nazis murder 2,588 Jews in Dunaivtsi, Ukraine.

1942–The Boeing B-29 Superfortress makes its maiden flight.

1944–Guitarist, Jesse Ed Davis, is born Jesse Edwin Davis III in Norman, Oklahoma. He was a popular session musician who worked on the solo recordings of John Lennon, George Harrison, and Ringo Starr, among others.

1950–Comedian and actor, Bill Murray, is born William James Murray in Evanston, Illinois. He first gained exposure on Saturday Night Live, then went on to starring in films including All You Need is Cash, Meatballs, Where the Buffalo Roam, Caddyshack, Stripes, Tootsie, Ghostbusters, The Razor's Edge, Scrooged, Groundhog Day, Mad Dog and Glory, Ed Wood, Rushmore, The Royal Tenenbaums, Lost in Translation, Broken Flowers, The Darjeeling Limited, The Monuments Men, and The Grand Budapest Hotel.

1953–Lieutenant No Kum-sok, a North Korean pilot, defects to South Korea and is associated with Operation Moolah..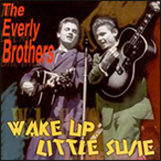 1957–The Everly Brothers song, Wake Up Little Susie, hits both the Country and Pop charts.

1957–Haakon VII of Norway dies at the Royal Palace in Oslo, Norway, at age 85. As one of the few elected monarchs, Haakon played a pivotal role in uniting the Norwegian nation in its resistance to the Nazi invasion and subsequent five-year-long occupation of his country during World War II. He is regarded as one of the greatest Norwegians of the 20th century.

1961–The Boeing CH-47 Chinook transportation helicopter makes its maiden flight.

1961–Bob Dylan records his first album for Columbia.

1963–A chart topper: Blue Velvet by Bobby Vinton.

1964–Malta gains independence from the United Kingdom.

1964–The North American XB-70 Valkyrie, the world's first Mach 3 bomber, makes its maiden flight from Palmdale, California.

1965–The Gambia, Maldives, and Singapore are admitted as members of the United Nations.

1965–The Moody Blues play their first major concert at Royal Albert Hall in London, England, as part of a bill called "Brian Epstein's Evening of Popular Music."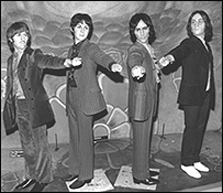 1966–Jimi Hendrix arrives in Britain with his recently acquired manager, Chas Chandler, formerly of The Animals.

1968–Madame Tussaud's Wax Museum gives its Beatles statues their fifth hair and clothes makeover in four years, in keeping with the lads' taste for hippie fashions.

1968–The Jimi Hendrix single, All Along the Watchtower, is released. This cover of the Bob Dylan song will be his only "Top 40" hit.

1970–NFL Monday Night Football makes its debut on ABC-TV.

1971–Bahrain, Bhutan, and Qatar join the United Nations.

1972–Philippine President Ferdinand Marcos signs Proclamation No. 1081, placing the entire country under martial law and marking the beginning of his authoritarian rule.

1972–ABC-TV debuts In Concert, a late night music show. Alice Cooper appears in the first episode.

1972–Liam Gallagher, of Oasis, is born William John Paul Gallagher in Burnage, Manchester, England. His erratic behaviour, distinctive singing style, and abrasive attitude have been the subject of commentary in the press, and he remains one of the most recognisable figures in modern British music.

1974–Novelist, Jacqueline Susann, dies at Doctors Hospital in Manhattan, New York, at age 56. Her last words to her husband, Irving Mansfield, were: "Hey, doll, let's get the hell out of here." She wrote The Valley of the Dolls, The Love Machine, and Once Is Not Enough.

1976–Orlando Letelier is assassinated in Washington, D.C. He is a member of the Chilean socialist government of Salvador Allende, overthrown by Augusto Pinochet in 1973.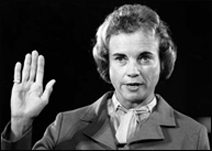 1976–Seychelles joins the United Nations.

1981–Belize is granted full independence from the United Kingdom.

1981–Sandra Day O'Connor is unanimously approved by the U.S. Senate as the first female Supreme Court Justice.

1984–Brunei joins the United Nations.

1987–Jazz bassist, Jaco Pastorius, dies of a massive brain hemorrhage after being beaten up in a barroom brawl in Fort Lauderdale, Florida, at age 35. He had a history of bipolar disorder and months of living on the streets, which had greatly deteriorated his health.

1991–Armenia is granted independence from the Soviet Union.

1993–Russian President Boris Yeltsin suspends parliament and scraps the then-functioning constitution, thus triggering the Russian constitutional crisis of 1993.

1995–The Hindu "milk miracle" occurs, in which statues of the Hindu God Ganesh begin drinking milk when spoonfuls are placed near their mouths.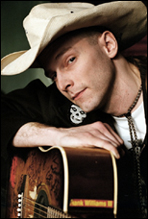 1996–The Defense of Marriage Act passes the U.S. Congress (a vote of 342-67 in the House of Representatives and a vote of 85-14 in the Senate). The law prohibits federal recognition of same-sex marriage, while allowing states to adopt any marital definition of their choosing.

1996–The audience at The Grand Ole Opry witness a historic moment when 23-year-old Hank Williams III, son of Hank Williams Jr. and grandson of country music legend, Hank Williams, makes his Opry debut. Hank III wears a black western shirt trimmed with green fringe that belonged to his grandfather. His set includes Moanin' the Blues, a 1950 chart-topper for Hank Sr., and Lovesick Blues, the same song his granddaddy performed for his Opry debut in June 1949.

1999–The Chi-Chi earthquake occurs in central Taiwan, killing around 2,400.

2001–Deep Space 1 flies within 2,200 km of Comet Borrelly.

2001–America: A Tribute to Heroes is shown simultaneously on 35 separate broadcast and cable networks. The telethon raises $150 million in pledges to benefit families of the World Trade Center and Pentagon attacks that occurred on September 11, 2001. And Paul McCartney announces that he will give a benefit concert for the firefighters' families who lost their lives in the attacks.

2003–The Galileo mission is terminated by sending the probe into Jupiter's atmosphere, where it is crushed by the pressure at the lower altitudes.

2006–Boz Burrell, of King Crimson and Bad Company, dies of a heart attack in Marbella, Spain, at age 60.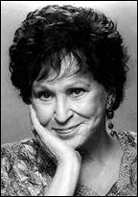 2007–Actress, Alice Ghostley, dies of colon cancer in Studio City, California, at age 84. She is best known for the role of Esmeralda on the TV series Bewitched. She appeared in the films To Kill a Mockingbird, My Six Loves, The Flim-Flam Man, The Graduate, With Six You Get Eggroll, Gator, Rabbit Test, and Grease.

2007–Evangelist and TV host, Rex Humbard, dies of congestive heart failure in Atlantis, Florida, at age 88. His Cathedral of Tomorrow show was aired on over 600 stations in America at the peak of its popularity. His ministry eventually extended to Canada, Europe, the Middle and Far East, Australia, Latin America, and Africa, giving it a worldwide reach of eight million viewers.

2009–Actor, Robert Ginty, dies of cancer in Los Angeles, California, at age 60. He appeared in the films Two-Minute Warning, Bound for Glory, Coming Home, The Exterminator, Loverboy, Madhouse, The Bounty Hunter, and Harley Davidson and the Marlboro Man.

2013–Al-Shabaab Islamic militants attack the Westgate shopping mall in Nairobi, Kenya, killing at least 67 people.

2014–Super-centenarian, Frieda Szwillus, dies in Raschau, Germany,at age 112 years (and 175 days). She had six siblings and three of them reached almost 100 years of age.

2016–U.S. Secretary of State, John Kerry, calls for a no-fly zone over northern Syria, in response to recent airstrikes on an aid convoy and medical facility in the Aleppo Governorate.

2016–The China National Space Administration (CNSA) confirms its Tiangong-1 prototype space station, launched in September 2011, is "out of control," and will re-enter and burn up in the atmosphere in late 2017.

2016–A fire at a power plant at Puerto Rico's Electric Power Authority causes a blackout that leaves 1.5 million people without electricity.

2016–A migrant boat carrying around 600 passengers capsizes off the coast of Kafr el-Sheikh Governorate, Egypt, killing at least 29 people.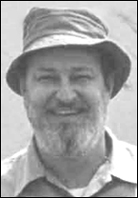 2016–Heavy rainfall, flooding, and landslides in the Indonesian province of West Java kill at least 10 people and leave three others missing.

2016–A 6.0 earthquake strikes in the sparsely populated Izu Islands region south-southeast of Japan's main island.

2016–Hip hop artist, Shawty Lo, dies in a single-car accident in Fulton County, Georgia, at age 40. He is best known for his debut single Dey Know, which was included on his solo debut album Units in the City, released in February 2008. He was a founding member of the Southern hip hop group, D4L, and founded D4L Records in 2003.

2016–Singer-songwriter, John D. Loudermilk, dies of bone cancer in Christiana, Tennessee, at age 82. Although he had his own recording career during the 1950s and 1960s, he was primarily known as a songwriter. His best-known songs include Indian Reservation (a 1971 #1 hit for Paul Revere & the Raiders), Tobacco Road (a 1964 Top 20 hit for The Nashville Teens), This Little Bird (a 1965 UK #6 hit for Marianne Faithfull), and Then You Can Tell Me Goodbye (a 1967 Top Ten hit for The Casinos).


PHOTOS TOP TO BOTTOM: Virgil; The Pennsylvania Packet and Daily Advertiser; H.G. Wells; The Sun Also Rises by Ernest Hemingway; Henry Gibson: Wake Up Little Susie by The Everly Brothers; The Beatles in wax circa 1968; Sandra Day O'Connor; Hank Williams III; Alice Ghostley; and John D. Loudermilk.